Risk assessments are nothing new to business, yet they often have a crucial blind spot. Human rights and environmental risks are overlooked, even though they can have devastating consequences not only for people and the planet, but also for businesses. These can be in the form of production and delivery disruptions due to accidents, unstable workforces or strikes, litigations and lawsuits, financial penalties, and related reputational damages, to name a few. Thus, scoping and assessing human rights and environmental risks is a necessary extension of all companies' actions to ensure robust value chains.
Establishing transparency to understand our suppliers' contexts better and, crucially, realising the link between our trading practices and working conditions will provide a solid basis for risk prevention, mitigation and remediation. 
More than half of the reasons for excessive overtime among garment workers relate to buyers' purchasing practices, such as placing ad hoc orders with the supplier offering the lowest price and shortest lead times rather than forecasting in advance or unclear technical product specifications. Understanding this link gives us the agency to improve the conditions for workers otherwise exposed to high pressure and stress, leading to exhaustion and unsafe situations, which, in turn, impacts their productivity and quality of work.
In-depth knowledge further helps us prioritise our due diligence efforts on the most salient and severe risks, ensuring that our investments in terms of money and time yield the most impactful structural results. For example, in the garment industry, developing purchasing practices that support suppliers' long-term planning has been found to help reduce both excessive overtime and the normally high workforce turnover, impacting efficiency and quality. Knowing such effects can help us ensure that our value chains become reliable.
In developing action plans to tackle the prioritised risks, we collaborate with our suppliers, worker representatives and other local stakeholders whose first-hand experiences and expertise are indispensable sources of information. We realise that including them in this process helps establish trustful and loyal business relationships that can significantly benefit our businesses in times of crisis.
For example, the global pandemic severely impacted supply chains across various sectors. These unprecedented times showed that where we had close business relations with suppliers, both sides shared direct updates on the market situation vis-a-vis the production environment and engaged in co-creating solutions that would benefit both parties beyond the crisis. This is an important learning for building resilient value chains.
Crucially, the directive aims to "(…) foster sustainable and responsible corporate behaviour and to anchor human rights and environmental considerations in companies' operations and corporate governance". While our businesses are already contributing to meaningful change across our value chains, we realise that our impact is limited.
High fragmentation across industries from cocoa to electronics to garment and textiles requires large-scale human rights and environmental due diligence among as many businesses as possible to build responsible value chains sustainably. With the European Parliament's legal committee proposal for the directive defining a broader scope, it has more potential to drive improvement.
We have based our due diligence efforts on the internationally recognised UN Guiding Principles and, specifically, the OECD Due Diligence Guidelines for Responsible Business Conduct. The latter provides already tried and tested tools and a feasible six-step risk-based approach that companies can adapt to their business model. The newest proposal adopted by the legal committee uses this as the base for EU-wide legislation, providing a coherent set of rules and helping to create the much-needed level-playing field for companies that recognise the connection between corporate responsibility and business viability.
Being unaware of human rights abuses and environmental harm across a business' value chain also means being unaware of potential business damage. Ignorance is risk. Let's make due diligence the norm!
This article and call to action has been co-signed by a number of high-level figures and brands from across the textile industry.
Oliver Hein, Chief Operations Officer of s.Oliver Group

Antje von Dewitz, CEO of VAUDE

Jaap Rijnsdorp, CEO of Schijvens Corporate Fashion

Erica Roolvink, Buying & CSR Director of Zeeman

Klara Brömel, CEO of FUNDMATE

David Ekelund, Co-CEO of ICEBUG

Michael Delfosse, CEO of Bel&Bo

Caroline Lind, CEO of Sandqvist Bags & Items

Aloha management SRL represented by Murielle Degeest, Managing Director of The Cotton Group

Mads Matthias Nørgaard, Owner/Founder of  Mads Nørgaard – Copenhagen

Kristin Heckmann-Kipouros,  Chief Sustainability Impact Officer of  Hess Natur-Textilien GmbH & Co. KG

Stefanie Rieder-Haas, Chief Supply Chain Officer (CSCO) of ORTOVOX, Sportartikel GmbH

Sandya Lang, Sustainability Manager of Nudie Jeans

Mariusz Stochaj, Head of Product and Sustainability at Continental Clothing

Zoé Daemen, Corporate Responsibility Manager of Kuyichi Pure Goods

Ryan Shannon, Managing Director of BAM Bamboo Clothing

Jean Chabert,  Managing Director representing Chabert Management SA of Stanley/Stella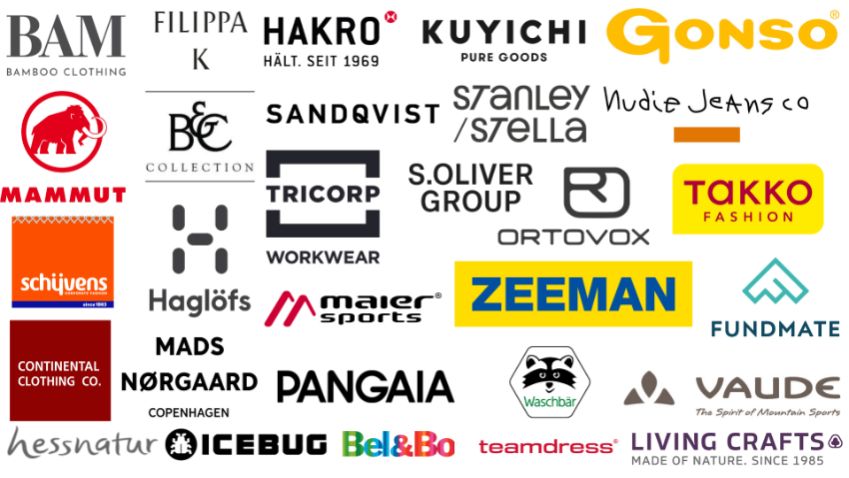 link