The global authority on record-breaking achievements, Guinness World Records (GWR), has selected two Definition Group agencies – Brand Vista and Schwa – to help grow its business by developing its brand proposition, alignment, and positioning.
Schwa will use behavioural science to refine GWR's tone of voice and make it consistent across all channels.
Simultaneously, Brand Vista will help execute the brand strategy by aligning and improving the customer and colleague experiences on two fronts – for individuals, and for organisations and brands.
Andrew Stothert, CEO of Brand Vista, said: "The GWR team are a delight to work with as they are curious, challenging, inclusive and great fun. It's a privilege to support their team and drive to improve their customer and colleague experiences in such a dynamic sector."
Neil Taylor, co-founder of Schwa, said: "Met the team from Guinness World Records, and they're fascinating, fun and very human.
"We want to make sure the brand always sounds like that, too, whether they're talking to individuals or big corporates and wherever they are in the world. Together with Brand Vista, we want to create an experience and a tone that's just as memorable and entertaining as the records people get."
Lucy Hunter, director of brand strategy at Guinness World Records, said: "GWR is driven by a vision to inspire a sense of wonder.
"That's why we loved the fresh approach and combined skillset Schwa and Brand Vista brought to the table.
"They clearly understood this vision; their pitch aligned well with the brief and showed a good grasp of our needs."
:::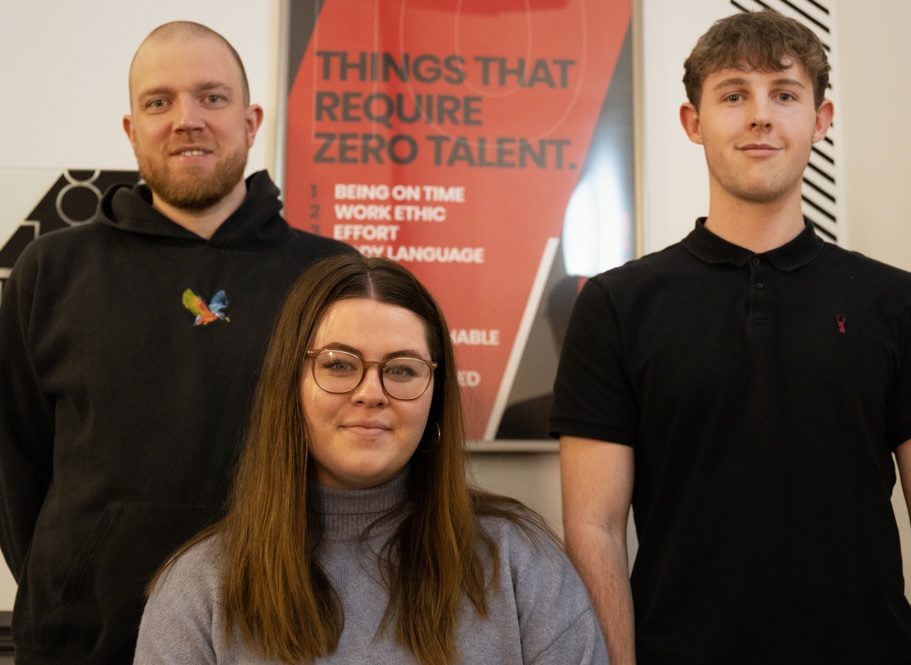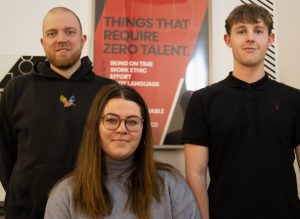 Following several new client account wins at Fantastic Media, the Leeds-based marketing agency is expanding its team with three new hires.
The agency welcomes designer Tom Wells, marketing account executive Sarah Miller, and digital marketing apprentice Seth Leech to the team.
These new appointments follow the firm's recent acquisition of digital marketing and management business Everpro, and Jonathan Bradley's appointment as managing director.
Wells joins from Distilled Design, where he worked on major brands including Channel 4, Waitrose, IKEA and Sainsbury's.
He also has several marketing qualifications, including a Marketing and Advertising degree from Lancaster University.
Creative director Paul Whitcroft said: "We were ready to bring in a new member of the studio who wanted to take on a fresh challenge and progress their career. Tom fits the bill perfectly. He's hit the ground running in terms of work and attitude and is a powerful addition to the team."
Wells said adds: "What excites me about Fantastic is the wide range of creative design work to get involved with and the chance to hone my creative skills as well as develop new ones.
"I like how every day seems different and I'm enjoying getting to work on a lot of different projects and with a wide range of clients."
Miller joins from TTI, where she completed a Graduate Leadership Programme, bringing experience in account management and client services as well as training and certifications from the Chartered Institute of Marketing.
She will build on her marketing experience working on everything from paid campaigns to content and PR.
She said: "As soon as I met with Andy, Andrew, and Fiona, I knew this was the right company for me. Their energy and drive to achieve for their clients really drew me in. Since joining everyone has been so welcoming and approachable, and there are many opportunities to learn and achieve."
Leech comes straight from Huddersfield New College where he studied Business and Psychology. The apprenticeship at Fantastic offers him a tailored course and first-hand learning experiences in the industry.
He said: "I immediately feel at home at Fantastic. It's a welcoming environment and the team spirit is obvious from the moment you walk through the door. I came here to pursue my goals as a digital marketer, and I have been able to start pursuing that from day one."
CEO Andy Hobson said: "Tom, Sarah and Seth all excelled in their interviews and demonstrated a strong team ethic, emotional connection and common sense, the key factors in how I've shaped this business over the past 16 years.
"Their personalities are matched by their strong individual skill sets, essential in our results driven environment."
:::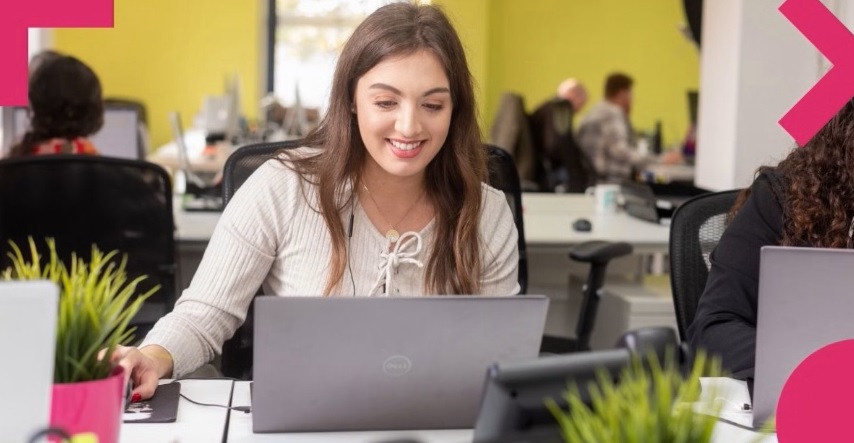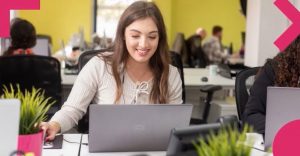 B2B technology marketing specialist, Fox Agency, has reported record growth for its latest financial year.
A recorded revenue of £5.5m is an increase of 35% on the previous year, with a 64% year-on-year increase in net profit.
The Leeds-based agency attributes its growth to a significant increase in demand for services including brand strategy, demand generation, content creation, video production, 3D and motion graphics and PR; as well as live, hybrid and in-person events.
It also won 12 new global B2B tech accounts, appointed a new senior management team, made 11 internal promotions, and increased headcount by 22 (20%) within the last 12 months.
Ben Fox, director at Fox Agency, said: "It's been an incredible year for everyone. From restructuring the business, opening our new London office, expanding services with existing clients, and winning new global B2B tech accounts including Arcwide, Delphi Technologies, Intelliflo, GKN PM, Rendezverse, and Syrenis, these latest results are testament to the ambition, expertise and dedication of our amazing team."
Looking ahead to plans for 2023 and beyond, fellow director Darragh Woods added: "With an ambitious growth plan in place, we are well positioned to deliver on our five-year goals to reach £15m by 2025 and £20m by 2027.
"Our focus for 2023 will be to build on our core strengths in driving growth for ambitious scale-ups and enterprises across global B2B tech markets, while looking to further our reach into mainland Europe and US markets."
:::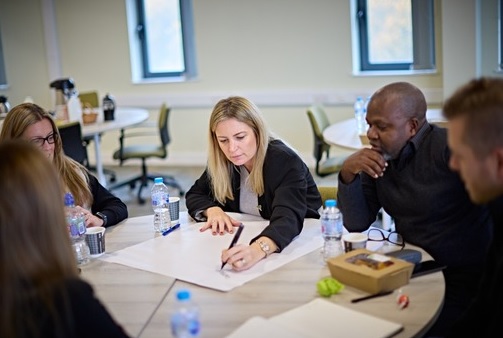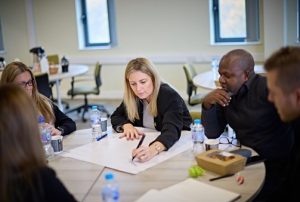 Huddersfield Business School, part of The University of Huddersfield, has selected Yorkshire-based agency Wild PR to drive PR for its Government-backed 12-week management programme.
The programme is designed to support senior managers of small and medium-sized enterprises looking to grow and develop as a business.
Most of the businesses taking part are located within the Huddersfield area, with some travelling from Warrington, Brighouse, Bradford, and Wetherby.
The objective for PR and communications specialist Wild PR is to drive brand awareness of the course and increase applications for the new round of the programme, which starts in January 2023.
The Help to Grow programme is a £520m scheme and is 90% funded by the Government. It aims to educate participants in leadership, innovation, digital adoption, employee engagement, marketing, responsible business, and financial management.
Founder and managing director of Wild PR, Katrina Cliffe, said: "As a Yorkshire-based agency we're really passionate about supporting the growth of our hometown, Huddersfield.
"With enriching communities and organisations being at the core of the University of Huddersfield's values, our partnership with the Business School's Help to Grow programme aligns perfectly with us as an agency.
"At Wild, we're also really proud to employ some University of Huddersfield alumni. Investing in local talent and working with organisations accomplishing the same is really exciting to us."
Liam Bunce, marketing and recruitment manager at Huddersfield Business School, added: "Over 30 SME leaders have joined Help to Grow since we started delivering the programme earlier this year.
"With ambitious plans to deliver Help to Grow to more SMEs next year, we recently began looking for a PR specialist to come and work with us.
"Wild impressed us with their creative proposals and knowledge of the local business community. We look forward to a successful partnership promoting Help to Grow to businesses in Kirklees, Calderdale, Wakefield and beyond."
link