The summit marks the 10th anniversary of the
Belt and Road Initiative
, Beijing's push to link dozens of economies in Asia, Europe and Africa into a China-centred trade network.
"We support Hong Kong in maintaining its unique status and advantages for the long run … maintaining a free, open and regulated business environment, maintaining the common law system, expanding streamlined and convenient international connections, and playing a more important role in building the Belt and Road Initiative together," Ding said in his first speech about the city.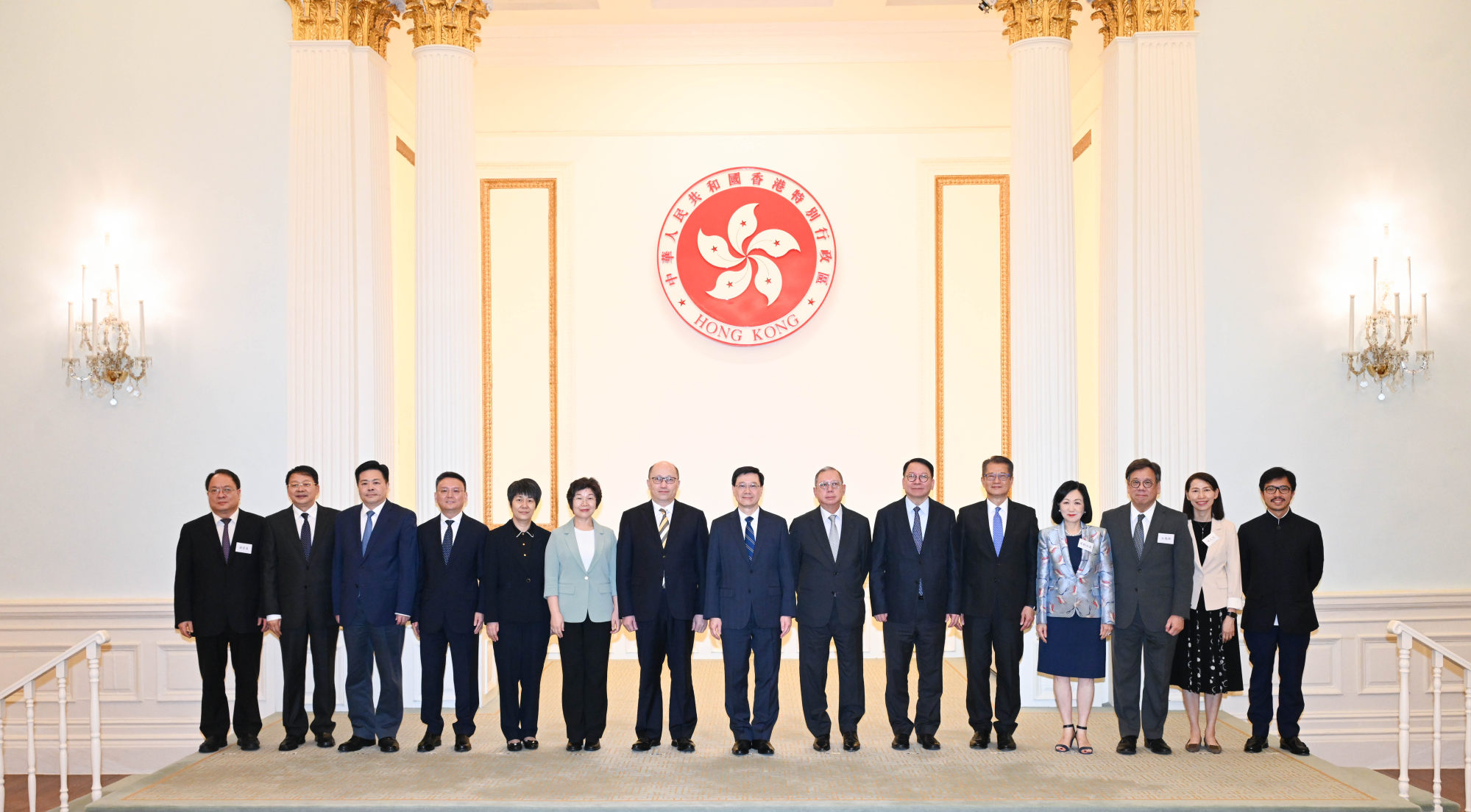 Hong Kong remained an important bridge connecting mainland China with the rest of the world, he said, as he set out four expectations for the city. It should bolster its financial services industry, strengthen its cooperation with the rest of the region, focus on offering professional services and deepen cultural interactions, Ding said.
He also urged Hong Kong to expand its range of green financing products to help meet the diverse funding needs of belt and road developments.
As a place where East met West, Hong Kong had a "natural advantage" in fostering cultural exchanges that would boost support in belt and road countries for Beijing's initiative, Ding added.
"We support Hong Kong in deepening cooperation with partner countries in areas such as education, technology, tourism, arts and youth … and to attract more students and academics to come to Hong Kong for study and research," he said.
Ding reiterated Beijing's backing for Hong Kong to join the Regional Comprehensive Economic Partnership – the world's largest free-trade deal centred on Southeast Asian nations – as soon as possible and sign similar pacts with other economies.
Hong Kong had also realised better and broader developments through integrating into the national development strategies, he said.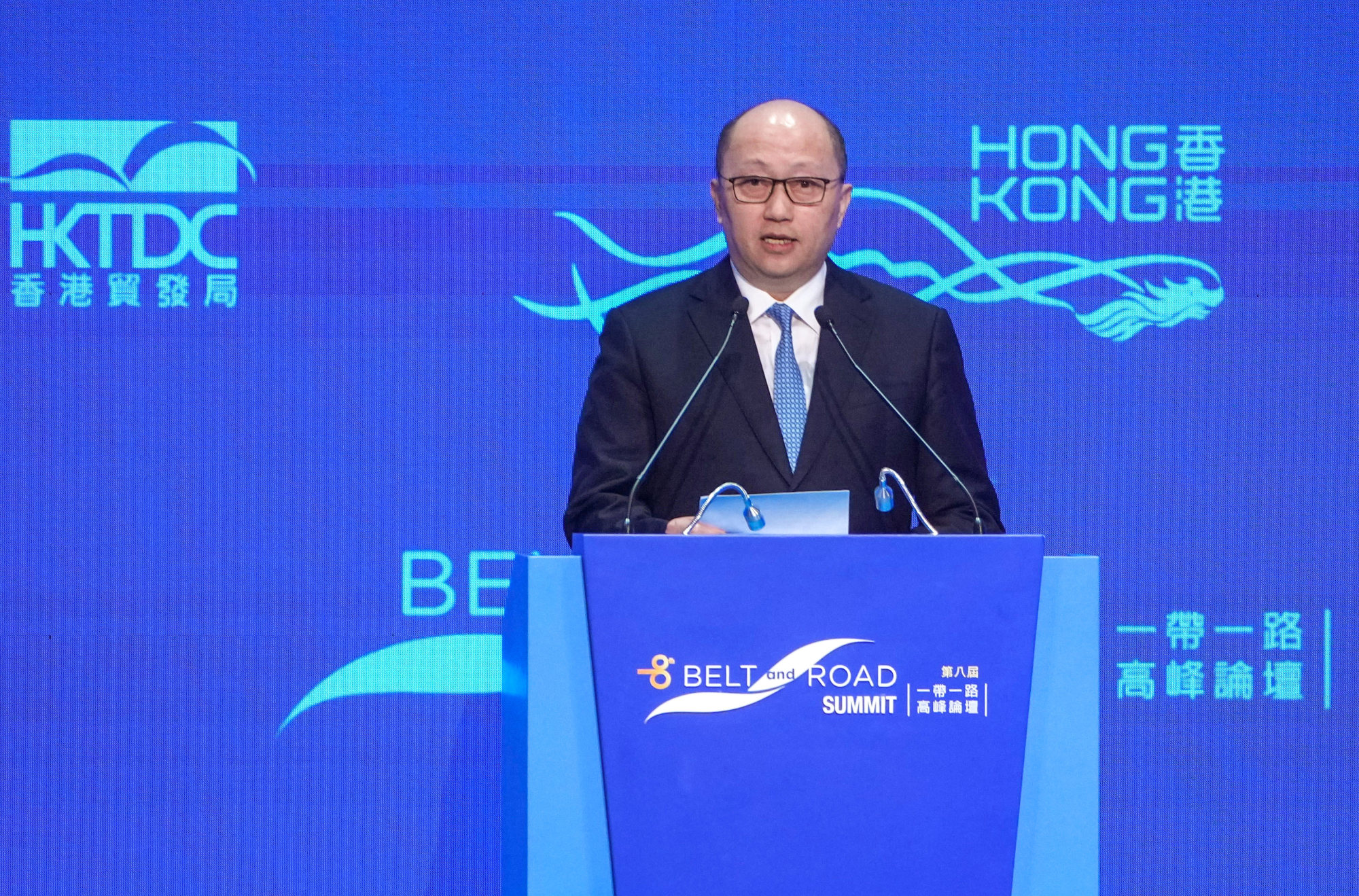 Speaking at the same event, Zheng Yanxiong, director of Beijing's liaison office in Hong Kong, pointed out that the United States, despite expressing dissatisfaction with the belt and road plan, still benefited from Maritime Silk Road trading, which started more than two centuries ago.
"After 240 years, even though the US has surpassed China in many aspects, it is still a beneficiary of the Belt and Road Initiative. Its industrial and supply chains have been further secured due to China. China has provided popular, affordable and quality consumer goods. Many enterprises also rely on China's market to survive," he said.
"The US should cherish the opportunities brought to the world by the initiative rather than criticising and obstructing it. Any disadvantageous actions to the initiative cannot gain support and are harmful to oneself."
He added that Hong Kong should grab the "huge opportunity" provided by the plan and strive to become an important hub.
Hong Kong HK$17 billion business boost and 4,000 new jobs trumpeted by Paul Chan
Launching the event on Wednesday, Chief Executive John Lee Ka-chiu highlighted the city's unique role in bridging the mainland and the rest of the world under the "one country, two systems" principle.
"We are expanding our cooperation with belt and road partners in a wide range of areas – from trade and investment, innovation and technology, to infrastructure development and many more," Lee said, stressing the city was the "ideal centre" for such an ambition.
Lee pointed to opportunities brought by the Greater Bay Area and called on summit participants to also capitalise on the city's "world-class financing" and professional services to realise their projects. The bay area is a national plan to integrate Hong Kong, Macau and nine mainland cities into an economic powerhouse.
Investors should look to 'Hong Kong as financing platform' for belt and road projects
Financial Secretary Paul Chan Mo-po said the city was "determined" to work with the Association of Southeast Asian Nations, or Asean, under the initiative as he addressed participants of a lunch at the summit.
He added that the city had a deep pool of international capital and talent, with an edge in services involving infrastructure financing, operations and risk management, with a trusted common law system and an independent judiciary.
Attendees at the event included: Guo Tingting, Chinese vice-minister of commerce; Gou Ping, vice-chairman of the State-owned Assets Supervision and Administration Commission; and Xiao Weiming, deputy secretary general of the National Development and Reform Commission.
Hong Kong officials at the summit exchanged two memorandums of understanding with the mainland on water-quality management, as well as environmental and meteorological monitoring, and signed another with Sri Lanka on fostering financial cooperation.
High-level officials from at least 10 countries are expected to join about 6,000 representatives from other nations for the event, organised by the local government and the Hong Kong Trade Development Council. About 20 memorandums of cooperation are set to be signed.
The summit has returned to a physical format for its eighth iteration, after the Covid-19 pandemic forced the event to be held virtually since 2020.
Speaking on the sidelines of the event, Commissioner for Belt and Road Nicholas Ho Lik-chi said Hong Kong's sophisticated offerings in green financing and its pool of experts on infrastructure projects were already attracting significant attention in Southeast Asian and Middle Eastern countries.
Developing green projects in these emerging economies required tapping a spectrum of talent, including in finance and technology, which Hong Kong readily supplied, he said.
link