'We had to set up an environment that provides staff incentive to come back to the office'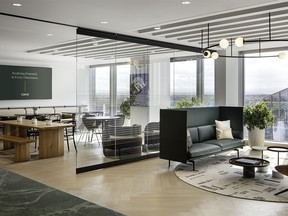 Article content
CBRE has raised the bar on employee work environment in Calgary.
Article content
The commercial real estate company has become the first in Alberta to achieve platinum level certification from the International Well Building Institute.
Four other offices in the province have achieved a Well certification, but below the platinum level.
CBRE announced the certification Tuesday, after moving into its new 16,000-square-foot office at Eighth Avenue Place last August.
Article content
Greg Kwong, CBRE's Alberta regional managing director, said they had a decision to make during the pandemic — either shift to a more remote work environment permanently or invest in a place of collaboration where they could develop a workplace culture.
"We had to set up an environment that provides staff incentive to come back to the office," said Greg Kwong. "If we give them an environment that's worse than their home they're probably going to say 'no, I'd rather be at home.' "
Article content
Kwong noted the organization's daily in-office attendance is about 90 per cent, with some still working remotely.
The institute looks at 10 different categories when considering Well certification — air, water, nourishment, light, movement, thermal comfort, sound, materials, mind and community.
Article content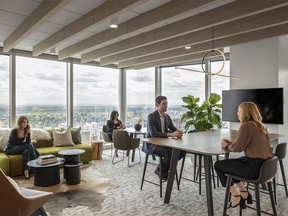 CBRE's new office has space for 90 employees and makes the most of the 280-degree uninterrupted views to the east, south and west, providing maximum natural light. It also has a fitness centre, a social hub where employees can collaborate, top-of-the-line air filtration, options for nutritious food and beverages, access to outdoors, a wellness room, and furniture that incorporates safe, non-toxic materials.
Article content
"The layout of our premises is more conducive to collaboration teaming and, quite frankly, just overall better culture within our company," said Kwong.
Eighth Avenue Place, built in 2014, is also a Class AA tower with a LEED Platinum rating and is managed by real estate firm Hines. It is owned by three investment firms — Ivanhoe Cambridge, Alberta Investment Management Corp. and Matco Investments Ltd.
CBRE began planning the move to a new office space in October of 2020.
"On top of the comprehensive approach to all of the 10 Well concept areas . . . the project team was really intentional in creating collaborative spaces to encourage connection among employees," Olesy Alekseev, vice-president and Canada lead for IWBI, said in an email. "The project also made it a top priority to create natural and easy access to wellness so that people's default choices are actually healthy choices."
The four other Alberta offices with some level of Well certification include one company in Calgary, which IWBI was unable to disclose, and three in Edmonton — HSBC Place, the Edmonton CBRE office, and Manulife Place.
Twitter: @JoshAldrich03

link