If 2020 was the year of the COVID-19 pandemic and 2021 was the year of building toward recovery, 2022 offered little respite for directors overseeing companies amid a chaotic business environment. To gain insight into the key trends that will impact boards in 2023 and how directors plan to adapt, the National Association of Corporate Directors has once again conducted its annual Board Trends and Priorities Survey. This year's survey report includes insights from more than 300 directors, which detail what directors expect in the coming year, as well as the key improvement areas that they deem important.
TOP TRENDS
Directors were asked to select the top five trends that they believe will have the greatest effect on their company over the next year. It's no surprise that inflation and the threat of an economic recession are top of mind. After several months of record-breaking inflation, the threat of a recession looms over the business landscape with 64 percent of respondents selecting it as ranking among their top concerns. As inflation persists despite a series of interest-rate hikes initiated by the Federal Reserve, pessimism has increased toward the prospects of the US economy. (See Figure 1.) In fact, only 29 percent of respondents believe that the United States' economy is heading for a "soft landing," that is, stemming inflation while avoiding a recession by mid-2023. Meanwhile, 65 percent anticipate a recession, and 6 percent anticipate a severe recession. (See Figure 2.)
As companies retool in preparation for a possible recessionary environment, the competition for talented individuals that can see them through will remain strong. Despite news headlines of sizable layoffs and hiring freezes in the technology sector, the labor market remains historically tight by traditional measures, with the ratio of unemployed persons to job openings at 0.5 as of September 2022. More than half of respondents (59%) indicated that increased competition for talent is a top concern. (See Figure 1, below.)
Disruptions to global supply chains originating during the pandemic have fueled inflation across 2022. The Russian invasion of Ukraine in February 2022 further amplified supply-chain challenges, and 37 percent of respondents expect supply-chain issues to have a great impact on their companies into the coming year. (See Figure 1, below.)
Notably, the impact of the COVID-19 pandemic and ensuring a safe working environment for employees are not top of mind for directors. While epidemiologists have yet to reach a consensus concerning whether the virus has become endemic, broader experience managing the virus, acclimatization to remote work, and confidence in the efficacy of vaccines and medications have decreased director concerns relative to other issues.
Collectively, these trends will affect how boards govern in the future, both in the long and the short term.
THE FUTURE OF BOARD GOVERNANCE
As discussed in NACD's Future of the American Board report, which was published in October 2022, "because governance is highly context dependent, the changing environment has implications for governance practices." In light of the myriad of trends affecting companies, respondents agreed with the report's findings that the way boards operate in the future will need to adapt.
Some of these changes will occur as boards endeavor to provide guidance and oversight in a complex, rapidly changing world. More than half (56%) of respondents, for example, expect to see much deeper and more frequent engagement of US boards on strategy over the next three years, and 45 percent of respondents anticipate vastly increased time commitment to board service.
Other changes may be prompted and/or accelerated by external pressures, whether by stakeholders, regulators, or society more generally. For example, 85 percent of respondents feel that boards lacking diversity will become less acceptable over time. The independence of board leadership is another example, with 57 percent of respondents indicating that the practice of combining the roles of the board chair and the CEO will be increasingly less acceptable.
PRIORITIES FOR IMPROVEMENT
As trends and external pressures motivate changes to the way in which boards operate, boards will need to examine their performance and governance practices and prioritize areas for improvement. The following sections review key opportunities identified by directors in board-management relations, oversight issues, and board operations.
Board-Management Relations
Having the proper leader at the helm is increasingly critical and challenging in a time of vast and rapid change. Thirty-seven percent of respondents indicated that their board did not allocate sufficient meeting time to CEO succession planning over the past 12 months, and 32 percent deemed it "very important" that their board improve its practices with respect to CEO succession planning. (See Figure 3.) While CEO turnover in the Russell 3000 slowed during the course of the pandemic, it has increased across 2022.
The mutual success of the CEO and the board is dependent on their ability to manage their relationship, aiming for a "constructive and healthy tension" as recommended by the Future of the American Board report. This tension stems from the board's duties as overseer and sounding board. This is a delicate balance to strike, and 56 percent of respondents felt that the relationship between their board and their CEO is an important improvement area. (See Figure 3, above.)
Board Oversight
Given the expected increase of board engagement on strategy in the next three years, it is unsurprising that the oversight of company strategy remains a key improvement area for many boards. Seventy percent of respondents indicated that improvement in strategy development and execution was important or very important. (See Figure 4.)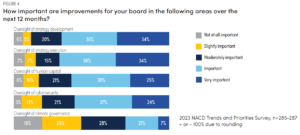 Yet, directors' oversight responsibilities are expanding, and directors increasingly see the value of having a diversity of experience. The Future of the American Board report recommends that, "the board should bring together a variety of skill sets, experiences, and viewpoints relevant to the company's business in an environment conducive to reaching consensus decisions after a full and vigorous discussion from diverse perspectives." A majority (82%) of respondents indicated that diversity broadens board perspectives and expertise. Another 64 percent indicated that diversity improves a board's ability to identify such information/skill gaps in the first place.
While 74 percent of respondents indicate that their board's composition and expertise is suitable to support the shifting needs of the business over the next few years, when specific drivers of emerging risks are considered, many boards are less confident. (See Figure 5.) Approximately a third of respondents feel their board lacks the capacity and expertise to oversee areas such as cybersecurity (34%) or geopolitical risk (31%). (See Figure 6.)
This is also the case with climate oversight—41 percent of respondents see an opportunity to increase their boards' capacity and expertise to oversee climate issues. However, interestingly, only 28 percent of respondents felt that it was "important" or "very important" that their board improve its practices with respect to climate governance. (See Figure 6.) This sentiment varies by industry. For example, only 4 percent of respondents from the financial sector indicated that it was "very important" that their board improve oversight with respect to climate, and 20 percent said it was "not at all important." Meanwhile, among respondents from the energy sector, 24 percent said it was "very important" that their board improve in this area, compared to only 8 percent that felt it was "not at all important." This difference may stem from how immediately boards feel that climate issues will impact their strategy, as previous NACD surveys have found that directors primarily look three to five years out when planning for the long term.
Board Operations
Directors are also looking to make improvements to the dynamics within the boardroom. About half of respondents indicated that it is "important" or "very important" that they improve the rigor of board decision making (47%) or the candor of board discussions (45%) over the next 12 months. (See Figure 7.)
It was noted above that improving board diversity may fill expertise gaps. Likewise, improvements to board inclusion practices may improve board dynamics. Overall, 76 percent of respondents indicated that effective inclusion practices create a richer dialogue in the boardroom and 61 percent indicated that these practices provide for higher-quality decision making on key governance issues. However, 42 percent of respondents felt that their board has limited time to discuss inclusion at the board level given other priorities.
Interestingly, onboarding was ranked last among board operational issues to improve. The onboarding process can give new directors an understanding of boardroom dynamics and unwritten rules of engagement among directors and between the board and management, setting them up to be high-performing directors.
CONCLUSION
Each year, specific key trends inspire long-term and short-term changes to corporate governance practices, which, in turn, require boards to improve and retool to adapt. A highly eventful 2022 portends more change to come in 2023, and boards must remain vigilant and continue to improve to keep pace with the changing world of governance.
Endnotes
1The NACD 2023 Board Trends and Priorities Survey was in the field from October 25th to November 10th, 2022.(go back)
2US Bureau of Labor Statistics, Graphics for Economic News Releases, "Number of unemployed persons per job opening, seasonally adjusted."(go back)
3NACD, The Future of the American Board Report (Arlington, VA: NACD, 2022), p. 10.(go back)
4Jena McGregor, "CEO Turnover Is Picking Up Again As The Pandemic Wanes—But Not For Poor Performance," posted on Forbes CEO Next.(go back)
5NACD, The Future of the American Board Report (Arlington, VA: NACD, 2022), p. 32.(go back)
6NACD, The Future of the American Board Report (Arlington, VA: NACD, 2022), p. 49.(go back)
link