We're making it increasingly hard for businesses to make a profit by hamstringing them with increased red tape and regulations that block the arteries of commerce and stifle business productivity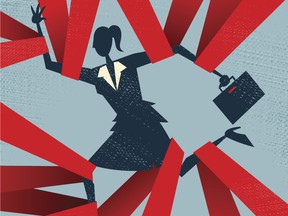 Article content
Why aren't Canadian businesses more competitive on a global scale? One major reason is that they are burdened with a multitude of regulations, many of which are unnecessary.
Article content
Canada placed 23rd in the latest World Bank rankings on the "ease of doing business." While this is nothing to crow about, there's no good reason why we shouldn't be one of the very best. Yet we're making it increasingly hard for businesses to make a profit by hamstringing them with increased red tape and regulations that block the arteries of commerce and stifle business productivity.
Article content
Last year, the Fraser Institute published a report titled, "The Drag on Productivity from Excessive Regulation." It defined excessive regulation as rules and policies that "do little or nothing to serve the public interest, while creating financial costs and frustration for producers and consumers alike." The end result is that businesses lose out — and so do consumers.
Article content
Businesses have been complaining about government overreach and meddling for as long as I can remember. The only thing that changes is that it keeps getting worse, never better. A decade ago, the Canadian Federation of Independent Business carried out a survey to get a better sense of how red tape was stifling business productivity.
According to the 2012 survey, 63 per cent of Canadian small- and medium-sized business owners agreed with the statement, "Excessive regulations discourage me from growing my business," while 68 per cent agreed that, "Excessive regulations significantly reduce the productivity in my business." I would not be surprised if those percentages were even higher 10 years later.
The problem is that the harder bureaucrats work, the more rules and regulations they create. And all the new regulations become a hidden cost of doing business that ultimately chokes productivity and makes businesses less competitive.
Article content
As a result, Canadians get saddled with a government that continues to grow in size and scope. The end result is higher taxes on individuals and businesses and a less competitive economic environment.
So what can we do to fix the problem?
To start, we need to put an immediate halt to the build-up of government bureaucracy and the non-stop parade of regulations that are strangling businesses. But just stopping the spread of new regulations is not enough. We need to go further.
We should adopt a double-barrelled approach: actively reducing regulations while also reducing the size of the bureaucracy. Rather than create new regulations, bureaucrats should be tasked with removing outdated, confusing and pointless regulations.
Article content
At the same time, we should gradually reduce the size of the public sector through incentives. For example, civil servants who voluntarily leave would get a two-year severance package.
Another solution we should adopt is to make government more efficient. In other words, we need a more entrepreneurial mindset in government — one that is constantly looking for better ways to provide Canadians with better service.
Governments could, for example, set up an efficiency hotline, and give bureaucrats financial bonuses for identifying waste, duplication and overlap.
Lastly, we need to make sure that government policies are clear and evenly applied. At present, there are far too many grey areas and loopholes. The problem with this is that too often regulations are subject to the arbitrary interpretations of a government agency or regulator.
Article content
In the same way that a house can't be built on a foundation of shifting sand, the market can't function effectively unless there is a clear-cut regulatory framework.
I'm not dumping all the blame on bureaucrats for the mess we're in. In a civilized society, no one sector or group should be made the scapegoat for our problems. It's not the fault of government employees that our bureaucracy has gotten bloated. All of us, to a certain extent, are to blame.
But we have to face up to the reality that small- and medium-sized businesses are the backbone of our economy and the engine that drives much of the job growth and innovation in our country. Governments must unshackle small business by removing unnecessary regulations that are hindering their growth.
Freeing businesses from reams of red tape will allow them to focus on what they do best: provide their customers with quality products and services at competitive prices. That's why we need to start slashing the red tape today.
National Post
[email protected]
Frank Stronach is the founder of Magna International Inc., one of Canada's largest global companies, and an inductee in the Automotive Hall of Fame.
Jesse Kline: Too much government? We're studying the problem in committee

NP View: Poilievre is right, too many rules are to blame for Canada's housing affordability problem
link