Hong Kong
CNN
 — 

China's new premier has tried to reassure the private sector in his debut press conference, as concerns grew about the country's future policy direction with the introduction of a new cabinet loyal to leader Xi Jinping.
Li Qiang, a long-time aide to Xi, officially succeeded Li Keqiang as premier over the weekend. He is tasked with reviving the world's second-largest economy after three years of Covid restrictions and as US-China tensions escalate over a variety of areas, including technology and business.
In his first press conference as the country's No 2 official, he sought to fire up the private sector, a group that has been scarred by a years-long regulatory crackdown and has grown concerned about Beijing's increasingly statist approach.
"For a period of time last year, there were some incorrect discussions and comments in the society, which made some private entrepreneurs feel worried," Li said Monday.
"From a new starting point, we will create a market-oriented, legalized and internationalized business environment, treat enterprises of all types of ownership equally, protect the property rights of enterprises and the rights and interests of entrepreneurs."
The new government will "promote fair competition among various business entities, and support the development and growth of private enterprises," he added.
But Li also sought to temper expectations, admitting that China's goal of reaching 5% GDP growth this year – its lowest target in decades – was "not an easy task."
His comments came a day after Beijing made a surprise decision not to retire the incumbent central bank governor in a move applauded by analysts, who said it would "shore up" investor confidence.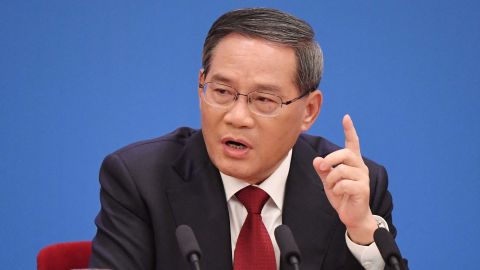 Li signaled that Beijing doesn't want to decouple with the United States.
"The Chinese and American economies have benefited from each other's development," he said. "China and the United States can and should cooperate, and there is great potential for Sino-US cooperation."
"Opening up to the outside world is our basic national policy. No matter how the external situation changes, we will unswervingly move forward," he added. Worries have been growing about China's future direction since October, when Xi stacked his top team with loyalists in a clean sweep not seen since the Mao era.
Over the weekend, the new cabinet lineup was confirmed by China's parliament. As a group of Xi's close associates stepped into office, some Western-educated, reform-minded officials departed – including former Premier Li Keqiang and former Vice Premier Liu He.
Analysts are worried that Xi's preference for personal loyalty over technocratic competence signals a more ideology-driven policy direction that could further dent private sector growth and worsen Beijing's ties with Washington.
A worsening economic outlook seems to have prompted top leaders to strike a more conciliatory tone toward private business, which contributes more than 60% to China's GDP and over 80% of employment, despite being dwarfed by the state sector in size.
Last week, Xi called on private firms to play a role in boosting growth, jobs and tech innovation.
"We always regard private enterprises and private entrepreneurs as people on our own side," he said.
In a surprise announcement on Sunday, Beijing decided to keep some of its existing economic leadership in place, including the People's Bank of China governor Yi Gang, a US-educated economist.
China's economy is navigating with a growing array of challenges. The all-important housing market is in the midst of its worst downturn on record. Consumer spending is sluggish. Unemployment remains high among the youth.
Business confidence has plummeted since an unprecedented regulatory onslaught on private companies. Relations between the United States and China are at their lowest point in decades, leading to escalating tensions in technology and investment. Foreign investment in China has slumped.
"The reappointment of some top finance and economic officials, including PBOC governor Yi Gang as well as the finance and commerce ministers, signaled the policy continuity and consistency under the financial regulations revamp," said Ken Cheung, chief Asian foreign exchange strategist at Mizuho Bank.
He added that the move should help improve foreign investors' confidence in China's investment outlook.
Goldman Sachs analysts say the arrangement reflects Chinese policymakers' focus on "stability" as the new government leaders aim to restructure the financial regulatory system.
Last Tuesday, Beijing announced a major government overhaul that will shake up the oversight of its financial system and aims to boost technological self-reliance. The change to the State Council, including setting up a powerful financial regulator, is the biggest in years and expected to strengthen the party's control at the expense of the government.
link