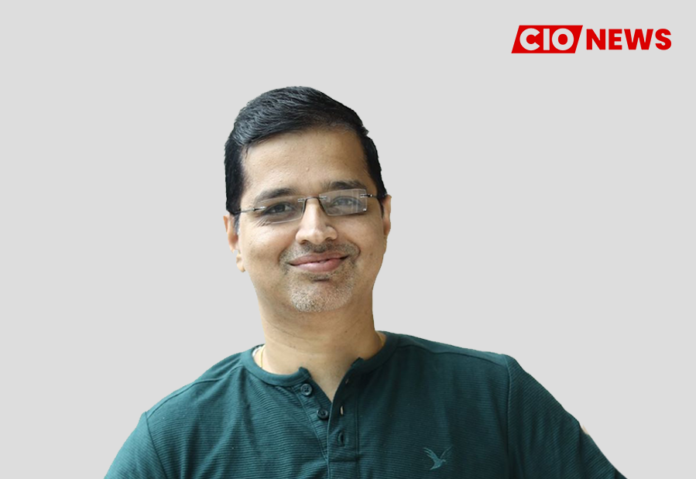 Data analytics is a rapidly growing and increasingly important field for organizations looking to gain a competitive edge in today's data-driven business environment
This is an exclusive interview conducted by the Editor Team of CIO News with Badri Ramakrishnan, Technology Leader at lululemon
About Badri Ramakrishnan:
Badri Ramakrishnan is an accomplished technology executive with over 20 years of experience driving business transformation through the strategic use of technology, with a particular focus on data analytics and machine learning.
Badri has led successful initiatives to modernize legacy systems, implement innovative digital solutions, and optimize business processes using cutting-edge technology solutions. Badri is a thought leader in the technology industry and is passionate about leveraging technology to drive positive change and improve business outcomes.
What are the current statistics of data analytics?

Data analytics is an increasingly important tool for organizations to gain insights into their operations and make data-driven decisions. According to recent statistics, the global big data analytics market is expected to reach $103 billion by 2027, with a compound annual growth rate of 10.9% from 2020 to 2027.
In addition, a survey conducted by the International Data Corporation (IDC) found that the average organization is now investing more than $19 million per year in big data and analytics initiatives. This investment is being driven by the increasing availability of data and the need for organizations to stay competitive by making more informed decisions.
Overall, the statistics suggest that data analytics is a rapidly growing and increasingly important field for organizations looking to gain a competitive edge in today's data-driven business environment.
Could you elaborate on the top data analytics challenges and the solutions?

One of the biggest challenges in data analytics is dealing with large volumes of data from multiple sources. This can lead to issues with data quality, accuracy, and completeness, which can in turn impact the reliability of any insights generated from the data. To address this challenge, organisations can invest in data cleansing and standardisation processes, as well as tools that allow them to integrate and analyse data from multiple sources in a unified manner.
Another challenge is the need to extract meaningful insights from the data, which requires sophisticated data modelling and analysis techniques. This can be particularly challenging when dealing with complex or unstructured data. To address this challenge, organisations can invest in machine learning and artificial intelligence technologies, which can help automate the process of data modelling and analysis.
Finally, there is the challenge of ensuring data privacy and security, particularly in light of increasing concerns around data breaches and cyberattacks. To address this challenge, organisations can invest in robust data security measures, such as encryption, access controls, and monitoring tools, as well as adhering to relevant data privacy regulations.
Which top trends in data analytics are the must-follow trends for organisations in 2023?
Increased adoption of artificial intelligence (AI) and machine learning (ML) technologies for data analytics: AI and ML are increasingly being used to automate and enhance the data analysis process, and this trend is likely to continue in the coming years. Organisations that want to stay ahead of the curve in data analytics may need to invest in these technologies.
Emphasis on data visualization and storytelling: With the increasing volume of data being generated, organizations will need to find new ways to communicate insights effectively. Data visualisation and storytelling techniques can help make complex data more accessible and actionable for decision-makers.
Use of natural language processing (NLP) and other advanced analytics techniques: NLP is a rapidly growing field that is being used to extract insights from unstructured data such as social media posts and customer feedback.
As data visualization is indicated as the last mile of the analytics process and assists enterprises to perceive vast chunks of complex data, how can data visualization make it easier for companies to make decisions by using visually interactive ways?

Data visualisation is a powerful tool for organisations to gain insights from complex data and make more informed decisions. Here are some ways that data visualisation can make it easier for companies to make decisions by using visually interactive methods:
Simplifying complex data: One of the key advantages of data visualisation is that it can help to simplify complex data, making it easier for decision-makers to understand and interpret. By using charts, graphs, and other visualisations, organisations can present data in a way that is easy to grasp, even when dealing with large volumes of information.
Enabling interactive exploration: With the use of interactive data visualisation tools, decision-makers can explore data in real-time, filter and drill down into specific data points, and ask "what-if" questions to see how different scenarios might impact outcomes. This can help decision-makers gain a deeper understanding of their data and make more informed decisions.
Encouraging data-driven decision-making: By presenting data in a visual and interactive way, decision-makers are more likely to rely on data-driven insights when making decisions. This can help reduce bias and increase objectivity, leading to more accurate and effective decision-making.
Could you highlight the top best practises of data analytics that can guarantee success to organisations?
Define clear goals: Before embarking on any data analytics project, it's important to clearly define the goals and objectives of the project. This will help ensure that the analysis is focused and aligned with the overall strategy of the organization.
Involve stakeholders: Involving stakeholders throughout the data analytics process can help ensure that the analysis is relevant and useful to the organization. This may involve soliciting input on project goals, sharing interim results, and gathering feedback on the final analysis.
Ensure effective communication: Communicating the results of the analysis effectively is critical to ensuring that the insights are acted upon. This may involve presenting the results in a clear and concise way, using data visualisation tools to help communicate complex information, and working with stakeholders to develop an action plan based on the insights.

Ensure data quality: The quality of the data being analysed is critical to the success of any data analytics project. It's important to ensure that the data is accurate, complete, and relevant to the project goals.

Use a structured approach: A structured approach to data analytics can help ensure that the analysis is rigorous and consistent. This may involve following a specific methodology or framework, such as CRISP-DM (Cross-Industry Standard Process for Data Mining), which involves a series of steps to guide the analysis process.
Also read: Technology is always much ahead of your comprehension
Do Follow: CIO News LinkedIn Account | CIO News Facebook | CIO News Youtube | CIO News Twitter
About us:
CIO News, a proprietary of Mercadeo, produces award-winning content and resources for IT leaders across any industry through print articles and recorded video interviews on topics in the technology sector such as Digital Transformation, Artificial Intelligence (AI), Machine Learning (ML), Cloud, Robotics, Cyber-security, Data, Analytics, SOC, SASE, among other technology topics

link